Spider Man Far From Home : Aunty May yang Mencuri Perhatian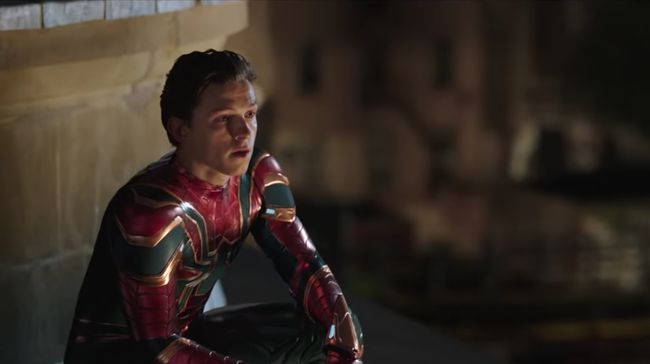 Spider-Man: Far from Home (2019)
Batas usia : PG-13
Runtime : 2h 9min
Genre : Action, Adventure, Sci-Fi
Release date : 2 July 2019 (USA)
Director: Jon Watts
Writers: Chris McKenna, Stan Lee (based on the Marvel comic book by)
Stars: Tom Holland, Samuel L. Jackson, Jake Gyllenhaal
Sinopsis
Setelah pasca kembalinya wipe out dari Thanos di Avenger End Game, Iron Throne, maksudnya, Iron Man throne akan dipimpin oleh siapa, namun Tony Stark memilih peter parker untuk menjadi orang yang memimpin avenger kelak. Meskipun pilihannya menjadi keraguan banyak pihak, ada alasan dibalik itu semua.
Quotes
Nick Fury: We have a job to do, and you're coming with us.
Peter Parker: There's gotta be someone else you can use. What about Thor?
Nick Fury: Off-world.
Peter Parker: Doctor Strange
Maria Hill: Unavailable.
Peter Parker: Captain Marvel.
Nick Fury: Don't you invoke her name!
Peter Parker: I'm just your friendly neighborhood Spider-Man.
Nick Fury: Bitch, please! You've been to space.
Komentar
Spiderman adalah bagian dari hero yang bener bener sejak peter parker diperankan tobey marguire, andrew garfield dengan amazing spidermannya, sampai ke versi avenger bersama tom holland. Kali ini ane membahas mengenai cerita dari film frenchise marvel ini. Ane rasa, selalu menjadi garansi bahwa film film yang digarap marvel adalah salah satu film seri terbaik dari segi cerita, plot dan tentu saja action cgi nya. Semua tepat pada porsinya, dari plot comedy, sampai ke unpredictable twist yang bener bener diluar ekspektasi kita. Ane pikir bahwa pasca avenger end game, bakal berhenti begitu saja, tetapi yang menarik ga seperti itu, akan ada lanjutan cerita bagaimana film frenchise ini digarap kedepannya.
Yang menjadi perhatian buat saya justru aunt may, dimana versi avenger terlihat sangat sangat muda, padahal dalam kategori sebelumnya diperan oleh aktris yang dibilang cukup senior dan berumur. Tapi aunt may memberikan penampilan yang lain dari yang lain. super hot tante. beneran dah, mata secara terperanjat agak agak gagal fokus sama kemolekan aunt may. damn
Joke marvel selalu sukses mendeliver kepuasan penonton, dengan aur yang unpredictable membuat decakan kagum cgi yang sangat mendetail. marvel memang top markotop. franchise ini emang ga ada habisnya.
Spoiler alert
Credit Scene menunjukan bahwa identitas peter parker sudah terbongkar, bahkan mysterio yang menjadi skenario dalang dibalik terjadinya monster raksasa. Mysterio dalam komik memang menunjukan sisi buruknya bahwa dia berusaha untuk menjadi hero setelah dirinya gagal menjadi aktor di film, tapi di marvel sedikit dirubah alurnya bahwa dia mantan karyawan stark.
banyak yang berkomentar mengenai kemunculan setelah "the blip"